Covering Grey Hair Can Sometimes be a Challenge!
9 Proven Steps You Need to Follow
1. First, Check How Much Grey Hair Your Client Has.
Check at the regrowth area because that is where you can see the grey hair the best.

Decide how much percentage grey hair your client has.

Also take this opportunity to determine your client's natural hair color. 

The images above will give you some idea. 

The image on the left shows around 20% grey hair.

The image in the middle shows around 40-50% grey hair.

The image on the right shows around 70-80% grey hair

Also check the thickness and coarseness of the hair, because the coarser it is, the harder it is going to be to get good color penetration and good grey hair coverage.

In general, darker hair also present greater grey hair coverage issues than blonde hair.
2. Now, Decide together with the Client on the The Target Color That is Suitable For Her.
In principle, any color is achievable. Consult the Ugly Duckling Hair Color Chart - there are over 90 colors on it.
If the chosen shade is more than 3 levels lighter than the client's natural hair color, you are going to need to pre-lighten. 
3. Pre-lighten Your Client's Hair If More than 3 Levels Lift is Required
Use Brilliant Blondexx with Bond Protect for prelightening. 
The Bond Protect which is built into the formula will protect the hair during the lightening process. You can do a full head coverage without any problem.
You will also get quick, efficient lifting.
Use with 20 Vol developer, 1 + 2 mix for most cases.
For medium and short hair, do a full head application in one go, starting from the back.
For long hair, do the lengths first, then rinse. Then do the root area separately. You will get better lift that way.
If your customer has more than 25% grey hair, and in particular if it is thick and coarse and dark, we recommend you add in some of the base shade into your mix.
4. Decide on Whether You Are Going To Need To Add in Some Base.
If your client's hair is thin, and not too dark, you should be able to get away without applying base.

In that case just do the pre-lightening as necessary and then just go ahead and apply the target color with developer.

Very often you will get very good grey hair coverage indeed, especially when using Ugly Duckling colors which are typically heavily pigmented and hence color-rich.

But if your client's hair has over 25% grey, and is thick, or resistant to hair color products, you will need to mix some base in with the desired color.
this technique is also known as "re-pigmentation" - basically, what you are doing is adding in some natural client to your client's hair.
When you do this, always stay at the same level as your target hair color.
So, for example, if your client is looking to get a 4.11, add in some 4N
If your client is looking to get a 7.1, add in some 7N. 
And if your client is looking to go ultra white blonde, add in some 10N.
Choose the base from among the colors below.
10N Extra Light Natural Blonde
5. Decide How Much Base to Add.
If your customer has 25% grey hair, mix in 25% of base with 75% of the desired hair color.
If your customer has 50% grey hair, mix in 50% of base with 50% of the desired hair color.
If your customer has 75% grey hair, mix in 75% of base with 25% of the desired hair color.
If your customer has 100% grey hair, you will need to use only the base color.
Please note the above are indications only, you should vary this rule once you work out what is best for your client's hair. Some grey hair is just easier to cover than others.
Also, the more blonde the hair is, the more you should consider blending away the grey with toned blonde hair rather than masking the grey hair.
If for your client has under 20% grey hair, you will almost certainly get away with just the desired color and nothing else.
6. If the Hair is Really Coarse or Resistant to Grey Hair Coverage, Use the Extra Coverage Colors instead of the Regular Base Colors.
If your customer has very resistant grey hair, we would recommend that you use the Ugly Duckling Extra Coverage Series ("NN") instead of the base shades.
Generally speaking grey hair coverage on thick dark hair (eg Latino, Asian, Indian hair) can be difficult to cover. We recommend using the Extra Coverage Series in such cases.
These colors can be mixed in with fashion color according to the ratios given above.
They can also be used on their own. 
They give really excellent grey hair coverage.
We have just launched 8NN and 9NN in addition to 6NN, 5NN, 4NN, 3NN and 1NN.
7. For clients wanting to go blonde and cover grey, mix the Base Shade 9N in with Your Chosen Toner
If your client is looking to go ultra white blonde all over and has a high percentage of grey hair, first lift really well.
Use Brilliant Blondexx lightener and 30 Vol if there is a lot of "pepper" in the "salt and pepper hair".
Do a couple of good washes with purple shampoo or purple mask. This will help get rid of any yellow hair which grey hair is sometimes prone to.
Then use one of Ugly Duckling's intense toners. Intense Pearl Blonde 100V with 20 Vol developer is very popular for this. It will help to lift te hair some more and take it to super white blonde.
You can also mix in some base 9N or 10N along with your intense pearl blonde toner. 
The picture below shows grey hair successfully lifted and colored to White Blonde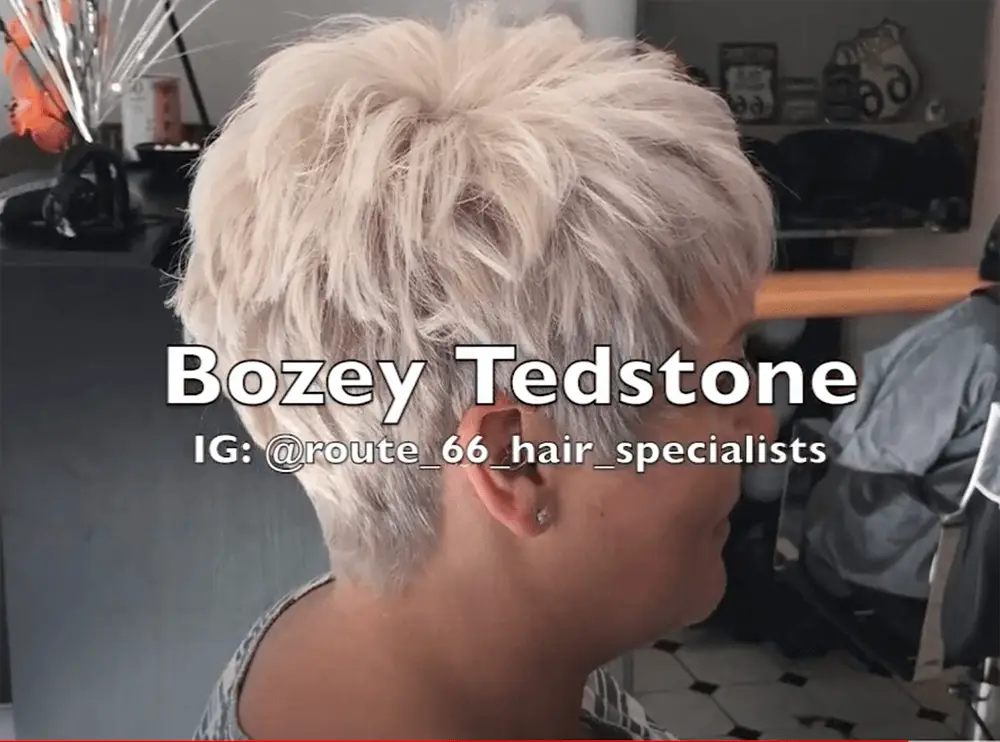 8. Extreme Grey Hair Coverage - What to do When Everything Else Fails
What do you do if your client's hair is very white, very thick and incredibly resistant to grey hair coverage?
Hair at the temples, in particular, can be very hard to cover. Especially when the hair is dark, or salt-and-pepper.
The answer is a hairdresser technique called "mordancage".
It's a technique that is not taught in cosmetology school in the US but it works!
Before any color application, apply pure 20 Vol or 30 Vol developer to the hair using cotton wool.
Give the hair a 20 minute soaking in the developer.
Then do your grey hair color application as above.
You can also heat the hair using a hair dryer for 5 minutes.
The heat will help open up the hair cuticle and allow the developer to penetrate better.
Additional benefit of "mordancage": it will mak ethe final hair result more vibrant.
9. Which Developer Should I Use in Grey Hair Coverage?
10 Vol developer for level on level coloring is what they teach in cosmetology school.
Unfortunately this does not work when there is a lot of grey hair to be covered.
20 Vol and even 30 Vol helps, because it opens the cuticle more, allowing color and developer to penetrate better.
We recommend you use 20 Vol developer for most grey hair coverage cases.
If the hair is very very thick and resistant, or you are trying to lift the base by 2 or 3 levels, then you can use 30 Vol also.
But in such cases, do apply at the root area last - 30 Vol processes extremely fast at the root area.